Commercial Flexibility pilot Germany
The Living Lab Energy Campus (LLEC) at Forschungszentrum Jülich (FZJ, "Jülich Research Centre") constitutes a testbed where both innovative hardware and software solutions for district energy systems are tested under close to real conditions, in a scientifically monitored environment incorporating real users.
The basis for LLEC is formed by the already existing infrastructure of the FZJ, which is one of the largest interdisciplinary research centers in Europe. The research center forms a self-contained district with few infrastructural connections to the surrounding area.
The main part of the research center in Jülich covers an area of about 1.7 square kilometers with approximately 150 buildings, multiple large test facilities, and supercomputers.
The infrastructure consists of an electricity grid at various voltage levels, a meshed heating grid, various cooling grids, and a gas grid. Within LLEC, different energy demonstrators for both generating and storing energy are integrated into the existing infrastructure in such a way, that the resulting infrastructure forms an ideal testbed for future multi-modal district energy systems with a high share of intermittent renewables energies.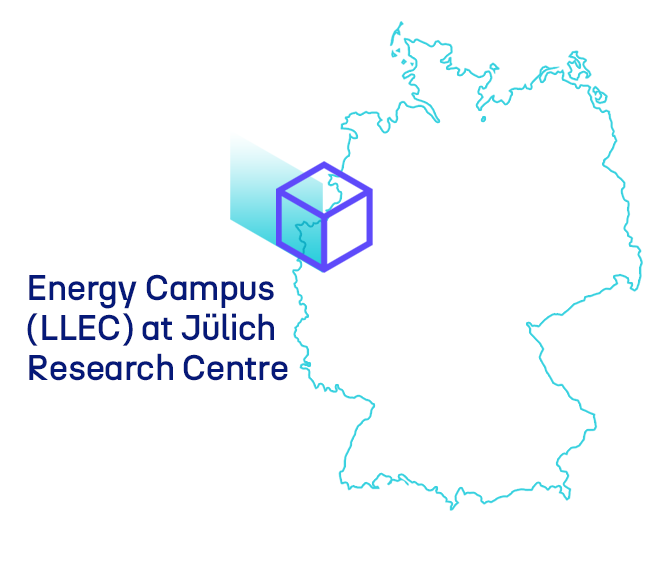 battery storage solutions
500 kW/2.6 MWh, 1.5 MW/500 kWh
Those include several PV installations (including agricultural and façade solutions), a LTDH system that use the waste heat of the local supercomputer with associated heat pumps (seven buildings), electrolysers and LOHC storage, two large battery storage solutions (500 kW/2.6 MWh, 1.5 MW/500 kWh) and several V2G capable cars and charging stations (100kW each).
The commercial flexibility pilot will contribute to achieve the following objectives
Develop and deploy harmonization software protocol to integrate different distributed storage applications ensuring interoperability (Interoperable DES)
Integrate and explore synergies of HESS to enable its operation as a conventional BESS with enhanced performance
Develop, deploy and validate an open adaptation of data sovereignty connected dataspace building blocks to enable DES data valorization and data-driven service digitalization
Solutions
FIWARE based Energy Campus Management
FIWARE is emerging as a reference architecture in different data-intensive applications including energy. The mainvalue of FIWARE is to create data management that can easily go beyond the single silos of Energy. FZJ is experimenting the use of a FIWARE architecture to realize its internal Smart Campus Experiment.

Home Energy Management System (HEMS)
INESC home Energy Management System is enables flexibility provision from home, working with diverse appliances such as washing machines or heat pumps. Its main functions are monitoring and data analytics on energy usage; optimal scheduling of flexible assets to provide demand side flexibility support.